The Coast Guard Marathon race route loops through downtown Elizabeth City, various residential neighborhoods, onto Base Elizabeth City, past one of the only remaining WWII dirigible hangars in the world and down scenic roadways along the 26.2, 13.1 and 5K routes. For the safety of runners and volunteers, road closures and delays can be expected from March 3-4, 2023. While most closures are rolling as runners make their way through town, some roads will be closed for the duration of the event.
See the maps below for each race route and corresponding road closures and our Parking page for information on available lots near the start/finish The Coast Guard Marathon team would like to thank everyone in advance for their patience and participation in an unforgettable and safe race weekend!
2023 Waterfront Park Street Closures
Water Street from Ehringhaus to Riverside Avenue / Shepard Street in front of Waterfront Park will be closed continuously from Thursday, March 3, 6:00am through Sunday, March 5, 6:00am.
Main & Water Street Closures
A portion of Main Street and all of Water Street will be closed during all race times March 3 – 4, 2023 as shown:
Main from Road to Water

 

Water from Elizabeth to Shepard

 

Ehringhaus from Road to Water
Friday, March 3 from 3:30pm to 5:15pm
Saturday, March 4 from 7:00am to 3:00pm
All streets on the 5K race route are closed during the entirety of the race from Friday, March 3 from 3:30pm to 5:15pm.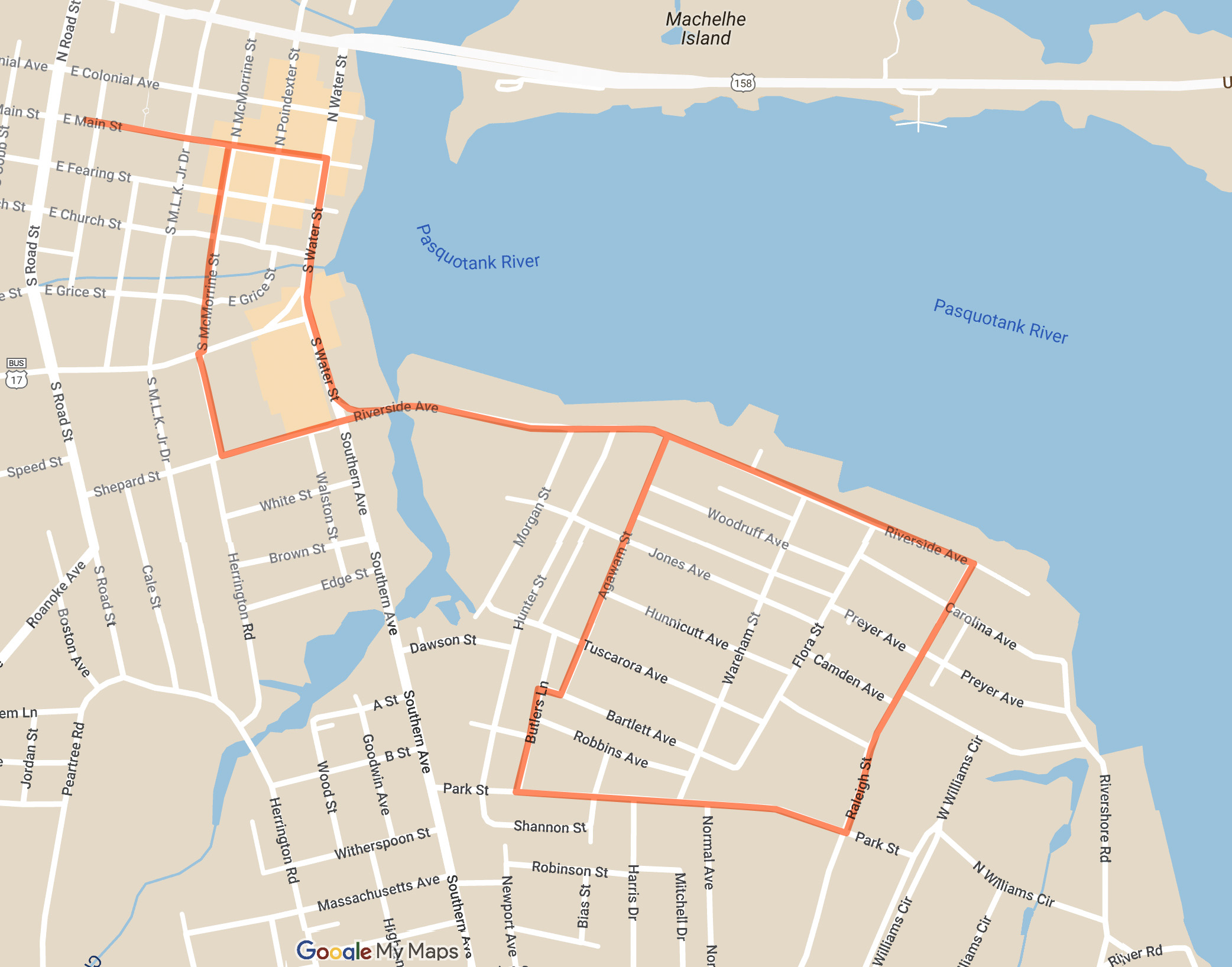 Half/Full Marathon Route Road Closures
Due to the nature of our sporting event, there will be rolling closures throughout Elizabeth City and Pasquotank County.
From Miles 0 – 3 (Green) roads will be completely closed from 7:15am until the last runner passes, approximately 8:30am.

River Road (Yellow) will be open to South-bound traffic only (River Road to Weeksville Hwy) from 7:15am –8:45am; NO North-bound traffic (from Weeksville onto River Rd).

Herrington (Blue) will be open to South-bound traffic only (from 7:30am to 2:30pm; NO North-bound traffic (from Weeksville onto Herrington; NO turn onto Herrington from Weeksville Hwy.
Downtown Closures
In addition to the Start/Finish closures (Main, Water and Eringhaus), portions of Downtown Streets (Purple; see detail bubble) including S. McMorrine, Church, Elliot and Fearing will be completely closed 7:30am-3:00pm.
Roads will re-open as the last runner and the tail race vehicle clears.
Other portions of the Half/Full race routes (red) will be restricted but not closed to traffic. Police Officers will be working along the route to ensure safety of runners and they may ask traffic to momentarily pause for large groups. Expect delays and please drive with care or take an alternate route if possible.
Full Marathon Route Road Closures
None of these roads will be completely closed, but there will be runners on them from 8:00am to 1:00pm. Please drive slowly and with extreme caution.