We're thrilled to welcome you to Elizabeth City for the second annual Coast Guard Marathon! Our inviting town and friendly local businesses are excited to host these special events to help make your weekend unforgettable. Here is a peak from the highlight of 2023's weekend. Stay tuned for 2024 featured events!
USCG Guardians Big Band Concert
Thursday, March 2, 7:00pm
Join us for this Official Coast Guard Marathon Weekend Event! Visit Elizabeth City, USCG Base Elizabeth City MWR and College of the Albemarle are proud to present the U. S. Coast Guard Guardians Big Band for a FREE evening of big band and jazz at the Performing Arts Center on the COA Campus. The show is free but you MUST reserve tickets.
Friday March 3
Enjoy artwork, artist demos, and live music at our monthly ArtWalk full of fun and festivities! Come to see all of our local creativity and stay for dinner or drinks at one of our great restaurants downtown.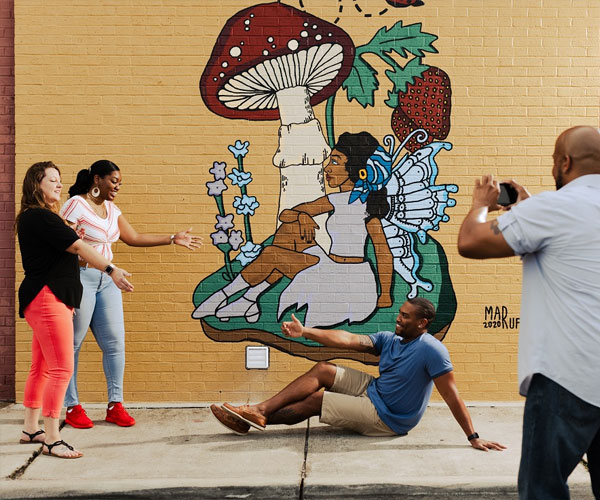 CPOA Spaghetti Dinner & Fundraiser
 Friday March 3, 5:00pm – 8:00pm
Carb up before the big race with a $12 spaghetti dinner including salad,
garlic bread & tea or water while supporting our local CPOA! Pick up or dine in.
Whole Hog BBQ & Fish Fry at Seven Sounds Brewery
Saturday March 4, 4:30-7:30pm; Live Music 7:30-10:30pm
All-you-can-eat BBQ, catfish bites, shrimp, mac & cheese, coleslaw & more topped off with live music & drinks from our Post-Race Celebration Sponsor, Seven Sounds Brewing Company. Tickets include one beer/wine/drink, additional drinks available for purchase. Advanced ticket sales only. $25 per person.
More Race Weekend Happenings
Tooley's Tavern At The Boathouse
Starting at 4:00 pm | Welcome family & friends of runners featuring bagpiper, wine & bourbon tastings along with drink specials "Get Your Buoy Moving" and "The Finish Line."
Chris and Mandy Whitehurst at 2 Souls Wine Bar
6:30 pm – 9:30 pm | Enjoy your favorite wine and food pairings while listening to our local favorite husband and wife duo perform an eclectic mix of the best of American popular music. Pulling from their repertoire catalog of Americana, Country, Rock and Pop.
PBNJ at Ghost Harbor Brewing Company
8:00 pm – 11:00 pm | Rock on listening to local favorite PBNJ while enjoying craft brews for a post-5K celebration!
Find more information on all Elizabeth City events HERE!
Virginia Symphony at Elizabeth City State University
7:30 pm – 10:30 pm | A free community concert brought to us by the ECSU Community Connections Performance & Lecture Series.
Join us at the Mickey L. Burnim Fine Arts Center-Floyd L. Robinson Auditorium for this ECSU Community Connections Performance & Lecture Series presents the Virginia Symphony Orchestra. Reserve your free tickets today!
For more fun things to do this weekend, check out Visit Elizabeth City's Events Page!