We're thrilled to welcome you to Elizabeth City for the first-ever Coast Guard Marathon! Our inviting town and friendly local businesses are excited to host these special events to help make your weekend unforgettable.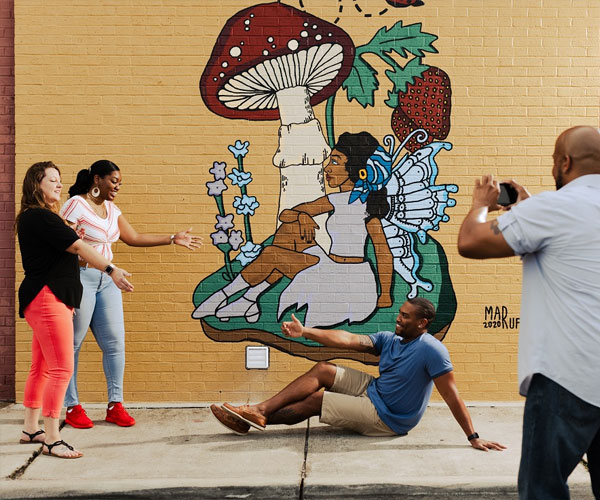 Friday March 4
Enjoy artwork, artist demos, and live music at our monthly ArtWalk full of fun and festivities! Come to see all of our local creativity and stay for dinner or drinks at one of our great restaurants downtown.
CPOA Spaghetti Dinner & Fundraiser
 Friday March 3, 5:00pm – 8:00pm
Carb up before the big race with a $12 spaghetti dinner including salad,
garlic bread & tea or water while supporting our local CPOA! Pick up or dine in.
Cutterman's Call at Happy Taco
Friday March 4, 5:30pm – 7:30pm
Check out the tasty taco bar and cash bar sponsored by the Community of Cutter(wo)men while supplies last.
Saturday March 5, 5:00pm – 9:00pm
All-you-can-eat BBQ, catfish bites, shrimp, mac & cheese, coleslaw & more topped off with live music & drinks from our Post-Race Celebration Sponsor, Seven Sounds Brewing Company. Tickets include one beer/wine/drink, additional drinks available for purchase. Advanced ticket sales only. $30 per person.
More Race Weekend Happenings
Coasters Downtown Draughthouse
Keep your drinks festive with a tap takeover from veteran-owned Young Veterans Brewing Company all weekend long!
Ghost Harbor Brewing Company
8:00pm – 11:00pm
Grab a pint and enjoy live music from The Gina Swoope & Jacob Vanko Duo at Elizabeth City's first microbrewery.
Glimmer Beauty Lounge
5:00pm – 7:00pm
Get your beauty fix with Blowouts, Beards, and Ballads featuring live music from local artist Drew Gregory.
Harbor Pharmacy
4:00pm – 7:00pm
Shop local goods and gifts. Local Artist Larry Jones and mead samples from Saga Meadery will be available to enjoy.
Sanctuary Design Co.
4:00pm – 7:00pm
Live music, free drinks and refreshments.
GCF Smokehouse at the Culpepper Inn
Enjoy smoked meat with all the southern fixins – food truck style! Pick up or eat on-site in the back yard around the pool (weather permitting) at this beautiful Bed and Breakfast on Main Street.
All About Improv & Drama Classes
Get your improv on at Zaribel's in Downtown Elizabeth City and have some laughs!
Family Improv 5:30pm – 6:30pm, $12 Coast Guard members and runners $10 + BOGO 50% off
Sip and Improv 6:45pm – 7:45pm, $15 per person, $12 for Coast Guard Members and runners
Call Christina at 478-230-4558 for more info and to sign up.
Pailin's Alley Live Music
8:00pm-11:00pm
Head over to this beautifully restored alleyway and relax after the race with live music from PBNJ and stay for dinner and drinks at one of our fabulous downtown restaurants.